Large-diameter metal hoses refer to DN50-DN850 caliber and larger-diameter flanged metal hoses. The larger the diameter of the white steel hose, the medium, whether it is water, steam, or air, must be 304 The even better material of stainless steel 316 316L, because the larger the diameter, the less easy it is to refine and form, it must contain elemental nickel, thus forming a high material requirement.

The structure is formed by a bellows with a thickness of 0.8 mm or more and an outer braided steel mesh sleeve or a braided steel strip. The working pressure is generally within the range of 6 kg to 25 kg. After all, the product belongs to a low pressure, high temperature and high corrosion conveying pipeline.
Product features: use environment -196 to +450 ° C, shock absorption and noise reduction, good flexibility, simple and convenient installation, long service life!
Large-diameter metal hoses are usually connected by flange connections and connection connections, and the joint form is rarely used. The conventional 10kg1.6kg25kg standard flange parts can also be customized according to customers!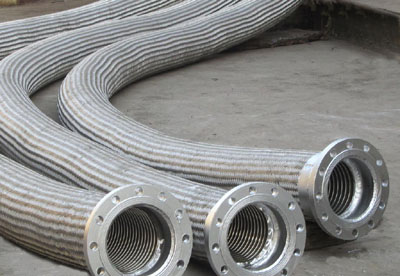 Large-diameter metal hose products are suitable for chemical, machinery, steel, metallurgy, coal, petroleum and other industries!